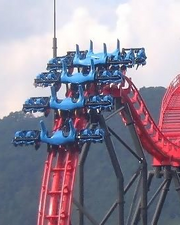 A 4th Dimension roller coaster is a type of roller coaster in which the cars have the ability to rotate by use of an extra set of rails on the track.
Arrow Dynamics
Edit
The first 4th Dimension coaster to be built was X at Six Flags Magic Mountain. It was designed and built by the manufacturer, Arrow Dynamics and was the last ride to be made by them.
S&S Power
Edit
The 4th Dimension design was bought along with the rest of Arrow Dynamics by S&S Worldwide. S&S proceeded to built two more 4th Dimension coasters; one in Japan, Eejanaika, and the other in China, 4D Roller Coaster.
The seats on the train are located at either side of the track. Theese seats are rotated to different angles at different points in the ride to add excitement.
Mechanics
Edit
The rotation of the cars is achieved by having four rails on the track: two of these are running rails while the other two are for spin control. The two rails that control the spin of the seats move up and down relative to the track and spin the seats using a rack and pinion gear mechanism.
Similar Rides
Edit
The trains on a Bolliger & Mabillard wing coaster are similar to a 4th Dimension train. Both models seat their riders at either side of the track, but a Wing Coaster car is fixed to track, unlike the 4th Dimension car, which can spin under control.
Installations
Edit