Alpen Blitz was a sit-down powered roller coaster located at Six Flags Great Adventure from 1976-1978.[1] It was designed by Anton Schwarzkopf.
At the end of 1974, it was decided that Great Adventure needed two additional roller coasters and an additional log flume ride to accommodate huge crowds. So they purchased compact and inexpensive coasters called Jumbo Jet and Big Fury. Big Fury opened in the spring of 1975 while Jumbo Jet is believed to have never opened due to technical difficulties beyond economic repair. The ride was removed a month after it was built by the end of August in 1975. To replace Jumbo Jet, "Alpen Blitz" was purchased and was built on the site Jumbo Jet was to have occupied.
The Alpen Blitz was located in the area later occupied by the "Haunted Castle". The bumper cars are in this area today. By 1977, construction had began on a looping coaster, Lightnin' Loops. At that point, Six Flags purchased the park. After the 1978 season when "Lightnin' Loops" opened, it was decided that Alpen Blitz was no longer needed. Maintenance issues secured the decision, and Alpen Blitz was sold and removed to make room for other flat rides. Big Fury was also sold and replaced with the Wild Rider at the end of the 1977 season.
The Alpen Blitz site was later occupied by the Haunted Castle, wich has, in turn, been replaced by the Autobahn bumper cars.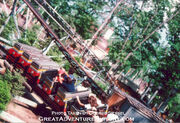 The ride was driven by electric motors at the front and back ends of the train. The drive units could be clearly seen as a series of articulated boxes at the front and back ends of the train. It required 180 kw of power to run, and weighed 76 tons. It packed up into four 40' containers.
Train capacity
Edit
Single train with 10 cars . Riders are arranged 2 across in 2 rows for a total of 40 riders per train
References
Edit
]]
Ad blocker interference detected!
Wikia is a free-to-use site that makes money from advertising. We have a modified experience for viewers using ad blockers

Wikia is not accessible if you've made further modifications. Remove the custom ad blocker rule(s) and the page will load as expected.