Bandit

02:31

Bandit (Yomiuriland) - OnRide

General
[[File:|link=|center]]
Park
Yomiuriland
Location
Inagi, Tokyo, Japan
Status
Operating
Operated
Operated

March 1989

-
Opened

March 1989

Opening
Cost
Height restriction
43 inches (109 cm)
Statistics
Manufacturer
TOGO
Builder
Designer
Type
Steel
Type
Model
Sitdown
Riders per train
28
Riders per hour
1,280
Lift/launch system
Chain Lift
Height

167 feet

Drop

feet

Top speed

68.3 mph

Length

5,119 feet

Dimensions

feet feet

x

feet

feet
Duration
2:18
Inversions
0
Steepest drop
Maximum g-force

Bandit is a steel sit-down roller coaster located at Yomiuriland in Inagi, Tokyo, Japan. Built by TOGO, it opened in 1989 and was the world's fastest roller coaster until Great American Scream Machine opened one year later at Six Flags Great Adventure.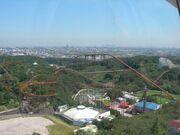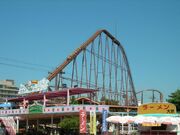 The Bandit has a very long track length, with many airtime hills and banked curves, as well as a up-ward helix. It is the second longest, fastest and highest roller coaster built by TOGO, after Fujiyama at Fuji-Q Highland.
3 trains with 7 cars per train. Riders are arranged 2 across in 2 rows for a total of 28 riders per train
External links
Edit
Ad blocker interference detected!
Wikia is a free-to-use site that makes money from advertising. We have a modified experience for viewers using ad blockers

Wikia is not accessible if you've made further modifications. Remove the custom ad blocker rule(s) and the page will load as expected.