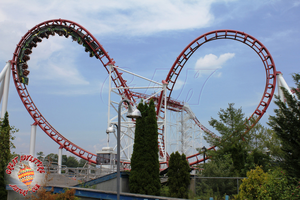 A batwing is a heart shaped element that inverts riders twice. It is made up of a sidewinder, followed by a reverse sidewinder. This inversion is the inverse of a cobra roll.
The element was first used on Orient Express, where it was called a "kamikaze curve". Orient Express was demolished after the 2003 season.
On later Arrow Dynamics roller coasters, such as Great American Scream Machine at Six Flags Great Adventure, it is known as a boomerang, however on Bolliger & Mabillard roller coasters, such as Montu at Busch Gardens Tampa and Afterburn at Carowinds, it is known as a batwing.
A similar element is the Bowtie.
Ad blocker interference detected!
Wikia is a free-to-use site that makes money from advertising. We have a modified experience for viewers using ad blockers

Wikia is not accessible if you've made further modifications. Remove the custom ad blocker rule(s) and the page will load as expected.