This article is an orphan. You can help Coasterpedia by adding links!
Blue Flash

00:30

Blue Flash - OnRide

General
[[File:|link=|center]]
Park
Home-Made
Location
Vincennes, Indiana, USA
Status
Operating
Operated
Operated

2001

-
Opened

2001

Opening
Cost
Height restriction
Statistics
Manufacturer
Builder
Designer
John Ivers
Type
Steel
Type
Model
Riders per train
1
Riders per hour
Lift/launch system
Chain Lift
Height

feet

Drop

feet

Top speed

mph

Length

feet

Dimensions

feet feet

x

feet

feet
Duration
Inversions
1
Steepest drop
Maximum g-force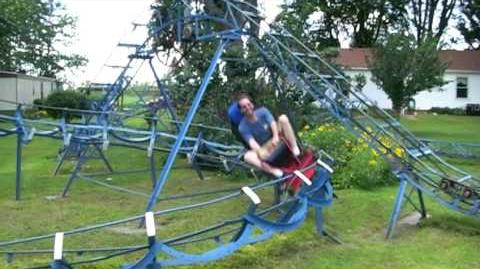 Blue Flash is a homemade roller coaster, designed and developed by John Ivers, and located in Vincennes, Indiana.[1][2] The ride began development in 2000, and was completed in roughly 2005, and has since been opened to the public. A second coaster, named "Blue Too" has also been developed by Ivers and is built in close proximity to the original.
The ride lacks a proper station and has to be pushed by hand to the lift hill. The hill itself goes up the side of a metal barn propelled by a chain lift, and then drops while twisting to the left. The quick and forceful vertical loop follows immediately, and leads into the final helix.
The train is nothing more than an office chair with a few modifications to attach wheels designed for the track. It also has a seatbelt to hold riders in.
Photo Gallery
Edit
References
Edit
↑ http://www.negative-g.com/BlueFlash/February2002/Blue-Flash-2002-2-1.htmldead link, 2015-05-05
Ad blocker interference detected!
Wikia is a free-to-use site that makes money from advertising. We have a modified experience for viewers using ad blockers

Wikia is not accessible if you've made further modifications. Remove the custom ad blocker rule(s) and the page will load as expected.