Boomerang is a Vekoma Boomerang roller coaster located at Six Flags St. Louis in Eureka, Missouri.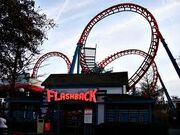 Boomerang
was formerly located at
Six Flags Over Texas
where it operated as
Flashback.
It was one of the first Boomerang coasters ever built.
[1]
On August 2, 2012, Six Flags Over Texas announced the last chance to ride Flashback would be September 3, before it closed along with the neighboring ride Texas Chute Out. Following its closure, it was announced that Flashback would be dismantled and relocated to Six Flags St. Louis for the 2013 season. Flashback was completely removed before October 10, 2012. The coaster replaced the Water Street Cab Company bumper car ride and operates in the Illinois section of the park with a new orange and green color scheme. Once open Boomerang would become the ninth coaster at Six Flags St. Louis, helping the Six Flags park become the park with the most coasters in the state of Missouri. Construction of the coaster began in early 2013 at the former site of Water Street Cab Company, with Boomerang track arriving at the park on February 11, 2013. The park completed construction of Boomerang in early April. Boomerang opened on June 8, 2013.
References
Edit
Ad blocker interference detected!
Wikia is a free-to-use site that makes money from advertising. We have a modified experience for viewers using ad blockers

Wikia is not accessible if you've made further modifications. Remove the custom ad blocker rule(s) and the page will load as expected.