This article is an orphan. You can help Coasterpedia by adding links!
This article contains a dated infobox.
It would be greatly appreciated if you help us by converting it to the new one. For help in doing this, please visit this page.
Cobra

00:47

Cobra (PowerLand) - OnRide



Statistics

Park

Location

Alahärmä, Vaasa, Finland

Status

Opened

2005

Construction

Type

Riders per train

28

Riders per hour

760

Lift/Launch system

Height

116 feet (35.4 meters)

Top speed

47 mph (75.6 km/h)

Length

935 feet (285 meters)

Duration

1:48

3 (Rider: 6)

Maximum G-Force

5.2G

Height restriction

51-76 inches (130-195 cm)
Cobra is a Vekoma sit-down shuttle roller coaster located at PowerLand in Alahärmä, Vaasa, Finland. It is a Boomerang model.
This is a Boomerang clone.
Single train with 7 cars . Riders are arranged 2 across in 2 rows for a total of 28 riders per train

This is the first Vekoma Boomerang to use Vekoma's MK1211 open sided trains.
Ride Experience
Edit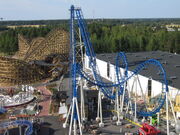 The ride starts as the train is pulled backwards from the station and up the first lift hill by a catchcar. After being released, the train passes through the station. At this point, smoke is released, adding an effect to the ride. The train the enters a Cobra roll element (referred to as a boomerang by the designers), and then travels through a vertical loop. After being pulled up the second lift hill, the train is released to head backwards through each inversion once more, making the total amount of inversions per ride six. Brakes slow the train down as is passes through the station backwards, and then comes to a complete stop in the station.
Ad blocker interference detected!
Wikia is a free-to-use site that makes money from advertising. We have a modified experience for viewers using ad blockers

Wikia is not accessible if you've made further modifications. Remove the custom ad blocker rule(s) and the page will load as expected.