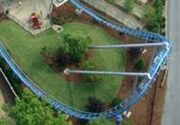 A Cutback is an inversion similar to a Corkscrew, except the second half is mirrored, so that the train exits the inversion in the opposite direction from which it entered.
Only three roller coasters have featured a cutback: Drachen Fire at Busch Gardens Williamsburg (now defunct), Sky Rocket at Kennywood and Space Mountain: Mission 2 at Disneyland Resort Paris.
This article has no categories. You can help Coasterpedia by adding some.
Ad blocker interference detected!
Wikia is a free-to-use site that makes money from advertising. We have a modified experience for viewers using ad blockers

Wikia is not accessible if you've made further modifications. Remove the custom ad blocker rule(s) and the page will load as expected.