This article is an orphan. You can help Coasterpedia by adding links!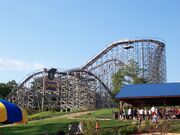 Cyclops is a wooden roller coaster located at Mt. Olympus Water & Theme Park in Wisconsin Dells, Wisconsin, USA. It was designed by Dennis McNulty and Larry Bill, and built by Custom Coasters International, Inc..
The last car of the train is notable among coaster enthusiasts for the intense ejector "air-time" experienced during the ride. Because of this, only riders 18 and older are allowed in the last two rows.
After the lift hill, riders are sent into a swooping left-hand 180 degree dive followed by three short hills. The ride then travels under Zeus' lift hill and dives down a right-handed drop in front of the station, before circling up and to the right back into the station.
Single train with 5 cars . Riders are arranged 2 across in 2 rows for a total of 20 riders per train
The train is built by Philadelphia Toboggan Coasters, Inc..
Ad blocker interference detected!
Wikia is a free-to-use site that makes money from advertising. We have a modified experience for viewers using ad blockers

Wikia is not accessible if you've made further modifications. Remove the custom ad blocker rule(s) and the page will load as expected.