This article is an orphan. You can help Coasterpedia by adding links!
Dvergbanen (previously known as Den aller minste) is a steel sit-down kiddie roller coaster located at Tusenfryd in Vinterbro, Oslo, Norway. A sign on the ride claims it is the "smallest roller coaster in the world", but (Legnth wise) this is wrong, with coasters measured to be as short as 40 feet(12.2 meters.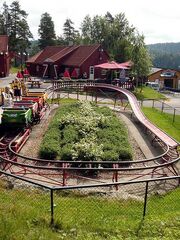 The ride features a simple oval layout.
Single train with 4 cars . Riders are arranged 2 across in a single row for a total of 8 riders per train
The name "Dvergbanen" means "Miniature Railway" in Norwegian, and "Den aller minste" translates to "The Smallest". Although this ride has often been called Teeny-weeny, there has never been any signage saying this, so this may be an unofficial name.
This page needs a POV. You can help Coasterpedia by adding one!
Ad blocker interference detected!
Wikia is a free-to-use site that makes money from advertising. We have a modified experience for viewers using ad blockers

Wikia is not accessible if you've made further modifications. Remove the custom ad blocker rule(s) and the page will load as expected.