This page has been marked as a candidate for deletion since 15:36, July 7, 2017 (UTC)
The reason given for proposing deletion is: this page is stolen almost word-for-word from Wikipedia, and probably also fails the "real coasters only" requirement of this wiki, as this "concept" is unlikely ever to be realised.
If you have an opinion about this, either for or against, please share it on the talk page. Better yet, if you can improve the article and address all the objections, please do so!
This article is an orphan. You can help Coasterpedia by adding links!
Euthanasia Coaster

04:05

The Roller Coaster Designed to Kill People

General
[[File:|link=|center]]
Park
Location
Status
Concept
Operated
Operated
-
Opened
Opening
Cost
Height restriction
Statistics
Manufacturer
Builder
Designer
Julijonas Urbonas
Type
Steel- Sit-Down
Type
Model
Riders per train
24
Riders per hour
Lift/launch system
Cable Lift
Height

1670 feet

Drop

1640 feet

Top speed

224 mph

Length

24,606 feet

Dimensions

feet feet

x

feet

feet
Duration
3:20
Inversions
7
Steepest drop
Maximum g-force
10

Euthanasia Coaster is an art concept for a sit-down roller coaster designed to kill its riders.[1] In 2010, it was made into a scale model by Julijonas Urbonas, a PhD candidate at the Royal College of Art in London. Urbonas, who has worked at an amusement park, stated that the goal of his concept roller coaster is to take lives "with elegance and euphoria". As for practical applications of his design, Urbonas mentioned "euthanasia" or "execution". John Allen, who served as president of the Philadelphia Toboggan Company, inspired Urbonas with his description of the ideal roller coaster as one that "sends out 24 people and they all come back dead".
The design starts with a steep-angled cable lift to the 1,670 feet (510 meter) top, which would take two minutes for the 24-passenger train to reach. Then, a 1,640 feet (499 meters) drop would take the train to 224 mph (360 km/h), close to its terminal velocity, before flattening out and speeding into the first of its seven slightly clothoid inversions. Each inversion would have a smaller diameter than the one before in order to maintain 10g on passengers while the train loses speed. After a sharp right-hand turn the train would enter a straight, where unloading of bodies and loading of passengers could take place.
24 riders per train.
Pathophysiology
Edit
Euthanasia Coaster would kill its passengers through prolonged cerebral hypoxia, or insufficient supply of oxygen to the brain. The seven inversions would inflict 10g on its riders for 60 seconds – causing g-force related symptoms starting with gray out through tunnel vision to black out and eventually g-LOC (g-force induced loss of consciousness). Depending on the tolerance of an individual rider to g-forces, the first or second inversion would cause cerebral anoxia, rendering the riders brain dead. Subsequent inversions would serve as insurance against unintentional survival of particularly robust riders.
Controversiality
Edit
The design led to concern from anti-euthanasia association Care Not Killing, as it is a hypothetical means of euthanasia.
Exhibition
Edit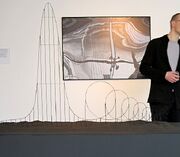 Urbonas' concept drew media attention when shown as part of the HUMAN+ display at the Science Gallery in Dublin from April through June 2011.[1] The display, designated as its 2011 'flagship exhibition' by the Science Gallery, aims to show the future of humans and technology. Within this theme, the Euthanasia Coaster highlights the issues that come with life extension.
Photo Gallery
Edit
References
Edit
Ad blocker interference detected!
Wikia is a free-to-use site that makes money from advertising. We have a modified experience for viewers using ad blockers

Wikia is not accessible if you've made further modifications. Remove the custom ad blocker rule(s) and the page will load as expected.