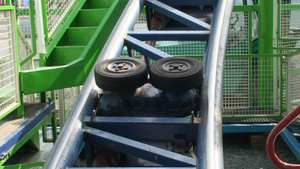 Friction Wheels are tires that are connected to the track of a roller coaster to control the speed of the train. Friction Wheels are often used in stations and brake runs (usually block-sectioned). On some roller coasters, this same method is used on launches, or on lift-hill. This machanism is so flexible that unlike lift chain it can work for spiral lift hills.
Ad blocker interference detected!
Wikia is a free-to-use site that makes money from advertising. We have a modified experience for viewers using ad blockers

Wikia is not accessible if you've made further modifications. Remove the custom ad blocker rule(s) and the page will load as expected.