Ad blocker interference detected!
Wikia is a free-to-use site that makes money from advertising. We have a modified experience for viewers using ad blockers

Wikia is not accessible if you've made further modifications. Remove the custom ad blocker rule(s) and the page will load as expected.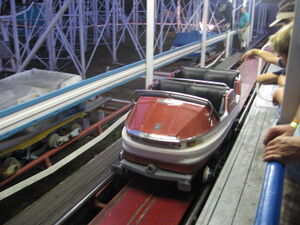 The Galaxi (Sometimes called "Galaxy") is a mass-produced portable roller coaster model primarily manufactured by Italian company S.D.C, who went bust in 1993. The design was first produced in the 1970s, and over fifty copies have been produced since[1].
Sixteen Galaxi roller coasters are currently in park-based operation across North America, Europe and Australia, with another standing but not operating. Over 36 amusement parks have operated, or are operating a Galaxi ride, excluding travelling funfairs.
The Galaxi is a steel roller coaster made of steel. It is designed to be transportable, and disassembles onto seven trailers.
The ride is similar in design to the Zyklon model, manufactured by the now defunct Pinfari, also Italian.
Single car trains. Riders are arranged 2 across in 2 rows for a total of 4 riders per car
In popular culture
Edit
In the Season 4 CSI episode "Turn of the Screws",a Galaxi coaster is the main subject of the investigation. A sabotaged train with five riders derailed and landed in a nearby carpark, killing the passengers and revealing the body of a park employee hidden in the trunk of a car[2]. The roller coaster used for filming was Screaming Mummy at Pharao's Lost Kingdom[3].
Installations
Edit
Due to the sheer amount of Galaxi coasters produced, and how difficult it is to track them, this list may be inaccurate.
Name
Park
Location
Opened
Status
Bavarian Beetle

Formerly Galaxi

Kings Island
Kings Mills, Ohio, USA

Cincinnati, Ohio, USA

1972

1970

Closed 1979

Closed 1971

Cyclone
Queens Park
Long Beach, California, USA
1969
Closed 1979
Galaxi
Indiana Beach
(Monticello, Indiana, USA
1971
Operating
Galaxi

Formerly Galaxie

Myrtle Beach Pavillion
Myrtle Beach, South Carolina, USA

Doswell, Virginia, USA

1975

Closed 1997

Closed 1983

Galaxi

Formerly Galaxi

Joyland Amusement Park
Lubbock, Texas, USA

Coraopolis, Pennsylvania, USA

Operating

Closed 1989

Galaxi
Pirate's Fun Park
Salisbury, Massachusetts, USA
Closed
Galaxi
Funtown Splashtown U.S.A.
Saco, Maine, USA
1978
Closed 2008
Galaxi

Formerly Galaxy Orbit

Palace Playland
Old Orchard Beach, Maine, USA

Omaha, Nebraska, USA

1994

1972

Operating

Closed 1993

Galaxi
Cliff's Amusement Park
Albuquerque, New Mexico, USA
1976
Operating
Galaxi

Formerly Galaxi

Sylvan Beach Amusement Park
Sylvan Beach, New York, USA

Seattle, Washington, USA

1993

1974

Operating

Closed 1992

Galaxi
Riverview Park & Waterworld
Wisconsin Dells, Wisconsin, USA
Cloaed 2007
Galaxi
Santa's Village AZoosment Park
Dundee, Illinois, USA
1987
Closed 1996
Galaxi

Formerly Galaxi
Formerly Galaxi

Dixie Landin' Family Theme Park
Baton Rouge, Louisiana, USA

Baton Rouge, Louisiana, USA
New Orleans, Louisiana, USA

2001

1978


Operating

Closed 1999
Closed 1997

Galaxi
Sauzer's Kiddieland
Schererville, Indiana, USA
1970
Closed 1995
Galaxi

Formerly Galaxi

Paragon ParK
Hull, Massachusetts, USA

San Antonio, Texas, USA

1969

1968

Closed 1985

Closed 1968

Galaxi
Crystal Beach
Crystal Beach, Ontario, Canada
1984
Closed 1984
Galaxi
Luna Park
Ankara, Ankara, Turkey
1980s
Operating
Galaxi 2000
Hassans Nöjesfältet
Åhus, Skåne, Sweden
1985
Closed 2006
Galaxy
Adventureland
Farmingdale, New York, USA
1973
Closed 1990
Galaxy
Fantasilandia
Santiago, Santiago, Chile
1978
Operating
Grand Huit
Europark
Vias, Languedoc-Roussillon, France
2005
Closed 2006
Himalaya
Parc d'Attractions d'Alger
Algeria, Alger, Algeria
2006
Operating
Horská Dráha
Lunapark
Prague, Czech Republic
1973
Operating
Metropolis
Luna Park
Melbourne, Victoria, Australia
Operating
Moncayo
Parque de Atracciones de Zaragoza
Zaragoza, Zaragoza, Spain
2002
Operating
Montagna
Magic Park
Thessaloniki, Macedonia, Greece
2001
Operating
Montagne Russe
Parc Sindibad
x16px Casablanca, Grand Casablanca, Morocco
SBNO
Montana Rusa
Parque Rodó
Montevideo, Montevideo, Uruguay
2006
Operating
Mont Blank
Edenlandia
Naples, Campania, Italy
Closed 2001
Nightmare Mine
Frontier City
Oklahoma City, Oklahoma, USA
1980
Closed 2000
Nightmare Mine

Formerly Galaxi

Frontier City
Oklahoma City, Oklahoma, USA

Grand Junction, Colorado, USA

2000

Closed 2000

Closed 1999

Rockin' Rider
Canobie Lake Park
Salem, New Hampshire, USA
1970
Closed 2004
Screaming Mummy

Formerly Super Screamer

Pharo's Adventure Park
Redlands, California, USA

Altoona, Iowa, USA

2000

1976

Closed 2006

Closed 1999

Serpent

Formerly Sperpent
Formerly Galaxi

Kokomo's Family Fun Center

LeSourdsville Lake Amusement Park
Nobles Funland Amusement Park

Saginaw, Michigan, USA

Middletown, Ohio, USA
Paducah, Kentucky, USA

2009

1989
1987

Operating

Closed 2002
Closed 1988

Skyways
Clarence Pier
Portsmouth, Hampshire, England, UK
1980
Operating
unknown
Mirapolis
Cergy-Pointoise, Ile-de-France, France
1989
Closed 1991
References
Edit