This article contains a dated infobox.
It would be greatly appreciated if you help us by converting it to the new one. For help in doing this, please visit this page.
Goliath

05:08

Goliath (La Ronde) - OnRide



Statistics

Park

Location

Montréal, Québec, Canada

Status

Opened

May 13, 2006

Type

Mega Coaster

Riders per train

36

Lift/Launch system

Height

174 feet (53 meters)

Drop

170 feet (51.8 meters)

Top speed

68.3 mph (109.9 km/h)

Length

4038 feet (1230.8 meters)

Duration

1:36

0

Steepest drop

70°

Cost

$18,700,0000CAD

Height Restriction

54 inches (137 cm)
Goliath is a Bolliger & Mabillard sit-down hyper roller coaster located at La Ronde in Montréal, Québec, Canada. It was the longest, tallest, and fastest roller coaster in Canada until in May 2008, it was surpassed by Behemoth at Canada's Wonderland, also made by Bolliger & Mabillard.
At 18.7 million CAD, it is the largest investment in a single ride by La Ronde since the park's opening in 1967.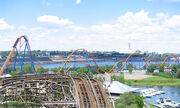 Goliath takes riders outside the park, to the eastern point of Île Sainte-Hélène, before rushing back into the park, over a series of hills and drops, finishing in a smooth ending in the station house, located near the Tour de Ville swing ride. The coaster has a very straight forward out and back layout until the latter portions of the ride where the layout has a few quick transitions during its return towards the station from the left to the right side and a heavily banked left turn leading into the final brake run.
Ad blocker interference detected!
Wikia is a free-to-use site that makes money from advertising. We have a modified experience for viewers using ad blockers

Wikia is not accessible if you've made further modifications. Remove the custom ad blocker rule(s) and the page will load as expected.