Great American Scream Machine

01:16

Great American Scream Machine (Six Flags Great Adventure) - OnRide - (720p)

General
[[File:|link=|center]]
Park
Six Flags Great Adventure
Location
Jackson, New Jersey, USA
Status
Defunct
Operated
April 15, 1989-July 18, 2010
Operated
-
Opened
Opening
Cost
Height restriction
54 inches (137 cm)
Statistics
Manufacturer
Arrow Dynamics
Builder
Designer
Type
Type
Steel Sit-Down
Model
Riders per train
28
Riders per hour
1680
Lift/launch system
Chain Lift
Height

173 feet

Drop

155 feet

Top speed

68 mph

Length

3,800 feet

Dimensions

feet feet

x

feet

feet
Duration
2:20
Inversions
7
Steepest drop
Maximum g-force
3.8G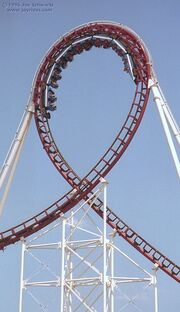 Great American Scream Machine was a steel sit-down roller coaster located at Six Flags Great Adventure in Jackson, New Jersey, USA. Built by Arrow Dynamics, it opened in 1989 as the tallest and fastest looping roller coaster in the world. It was built along with two other sister coasters known as Shockwave (dismantled in 2002) at Six Flags Great America and Viper at Six Flags Magic Mountain. Although another rolller coaster with the same name exists at Six Flags Over Georgia, that ride is an out and back wooden roller coaster.
After the Lift Hill and drop, there is 3 vertical loops, a brake run, the Batwing, a Double Corkscrew before a turn around into the station.
3 trains with 7 cars per train. Riders are arranged 2 across in 2 rows for a total of 28 riders per train
The trains were named Freedom (red), Liberty (white), and Spirit (blue)- each representing the colors of the American flag. The over-the-shoulder restrain handles.
Modifications
Edit
After the first season, the top of the vertical loops were replaced by track with additional stregnth bracing. This was due to problems on other Arrow Dynamics coasters, such as Shockwave at Six Flags Great America. The original top of the first loop can be seen in the monkey enclosure at the Wild Safari. Along with this, a trim brake was installed after the first loop. This was not designed to stop the train, it is only used to adjust the speed at temperatures of over 90 degrees.
All the colors of the ride and the surrounding area resemble the American flag. The track was painted red with white supports. The trains were named Freedom (red), Liberty (white), and Spirit (blue). The ground under the ride hasd a red and white pattern resembling the stripes on the American flag and the station building was white with blue trim.
Ad blocker interference detected!
Wikia is a free-to-use site that makes money from advertising. We have a modified experience for viewers using ad blockers

Wikia is not accessible if you've made further modifications. Remove the custom ad blocker rule(s) and the page will load as expected.