This article is an orphan. You can help Coasterpedia by adding links!
Half Pipe

01:44

Half Pipe (Särkänniemi) - OnRide

General
[[File:|link=|center]]
Park
Särkänniemi
Location
Tampere, Hame, Finland
Status
Operating
Operated
Operated

April 30, 2003

-
Opened

April 30, 2003

Opening
Cost
Height restriction
Statistics
Manufacturer
Intamin AG
Builder
Designer
Werner Stengel
Type
Steel- Shuttle
Type
Model
Half Pipe Coaster (30m)
Riders per train
16
Riders per hour
Lift/launch system
Height

98.4 feet

Drop

feet

Top speed

43.5 mph

Length

229.7 feet

Dimensions

feet feet

x

feet

feet
Duration
2:00
Inversions
0
Steepest drop
Maximum g-force
4.5G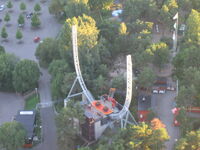 Half Pipe is a Intamin AG steel shuttle roller coaster located a Särkänniemi in Tampere, Hame, Finland.
The ride has an unusual train made up of three cars. Riders are arranged in two circles of eight, facing outwards, on the outer cars. This makes for a total of 16 riders.
Ad blocker interference detected!
Wikia is a free-to-use site that makes money from advertising. We have a modified experience for viewers using ad blockers

Wikia is not accessible if you've made further modifications. Remove the custom ad blocker rule(s) and the page will load as expected.