This article contains a dated infobox.
It would be greatly appreciated if you help us by converting it to the new one. For help in doing this, please visit this page.
High Roller

01:21

High Roller (Valleyfair) - OnRide - (360p)



Statistics

Location

Opened

1976

Manufacturer

Capacity

1,150 Riders per hour

Height

70 feet

Top speed

50 mph

Length

2982 feet

0

Steepest Drop

52°

Maximum G-Force

3.2G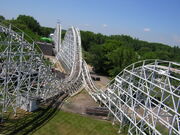 High Roller is a wooden roller coaster located at Valleyfair in Shakopee, Minnesota. It is the park's oldest roller coaster, being built in 1976 when the park opened. It is a common misconception that High Roller is really the Cyclone from nearby Excelsior Amusement Park, which closed a few years before Valleyfair opened. However, this is not the case. While High Roller bears some similarities to Cyclone, it was a brand new ride in 1976, and Cyclone was demolished when the Excelsior park closed.
External Sources
Edit
Ad blocker interference detected!
Wikia is a free-to-use site that makes money from advertising. We have a modified experience for viewers using ad blockers

Wikia is not accessible if you've made further modifications. Remove the custom ad blocker rule(s) and the page will load as expected.