This article requires cleanup to meet Coasterpedia's standards because This article needs an infobox. It also needs to be rewritten to be encyclopaedic (facts only, no opinions; and no first-person statements)..


It has been tagged since 12:52, June 24, 2016 (UTC).


Please help us out by fixing the issues if you can.
You're about to go vertical. Four upside down twists and a 90 degree free fall send you on an unforgettable rush. Guests 48" to 52" must sit in designated seats, and ride with a responsible party. This ride line could be closed roughly 30 minutes prior to park closing time. - Impulse description from Knoebels website.
The Impulse is the third rollercoaster built at Knoebel's Theme Park. Manufactured on the year of 2015 by Zierer, it is the first steel coaster at Knoebel's and although, it is slower and shorter than the Phoenix and Twister, it is currently the only coaster in the park that goes upside-down.
Elements
cobra roll vertical loop twist 90 degree drop helix
The Impulse is a Blue and Yellow steel coaster. (not completed)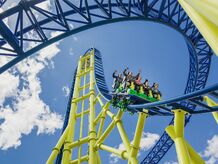 Ad blocker interference detected!
Wikia is a free-to-use site that makes money from advertising. We have a modified experience for viewers using ad blockers

Wikia is not accessible if you've made further modifications. Remove the custom ad blocker rule(s) and the page will load as expected.