Kanonen (or The Cannon) is a launched roller coaster located at Liseberg in Gothenburg, Göteborgs-Bohus, Sweden. The ride was manufactured by Intamin AG, and on-site construction was handled by RCS GmbH. It opened on April 13, 2005.
In 2002, the park's only looping roller coaster HangOver (a Vekoma Invertigo model) was removed to make room for the park's new ride Balder. The park contacted many manufacturers to build them a new looping coaster, with the winning bid coming from Swiss company Intamin AG. Lars-Erik Hedin, technical director of Liseberg cited "good experiences with Balder, also made by Intamin, as one of the reasons the product was chosen.[1]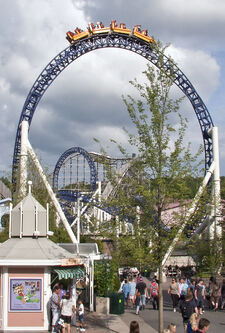 The ride sits on a compact footprint, and is built on top of it's maintenance buildings.
The train is accelerated to 46.6 mph straight out of the station, and into a 78.7 feet high top hat element. This is immediately followed by an airtime hill and a 65.6 feet high vertical loop, and a highly banked turnaround. The train then passes through a barrel roll (which threads the loop) before entering the brake run.
2 trains with 4 cars per train. Riders are arranged 2 across in 2 rows for a total of 16 riders per train
Rollbacks
Edit
As with many launched roller coasters, Kanonen suffers from rollbacks when the train does not gain enough momentum on the launch track in order to make it over the top-hat and rolls down backwards. Magnetic brakes along the launch track slow the train down safely when this happens. Rollbacks usually only happen if it is windy or the track is wet, but other factors can affect the launching system.
On June 8, 2009, the right conditions meant that a train with 14 riders got balanced at the top of the top hat.[2]
References
Edit
External links
Edit