This article is an orphan. You can help Coasterpedia by adding links!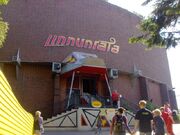 Linnunrata (Finnish for Milky Way) is a steel family roller coaster located at Linnanmäki in Helsinki, Uusimaa, Finland. It is a custom design by Zierer and Werner Stengel. The ride was previously known as Space Express from 2000 to 2003, but was renamed when, in 2004, the park decided to give all their rides Finnish names.
The ride is enclosed inside an old water tower, making it the only indoor roller coaster in Finland. When guests enter the building, they walk through a series of outer-space themed rooms before boarding the roller coaster. The ride starts with bright flashing LED lights.
Single train with 10 cars . Riders are arranged 2 across in a single row for a total of 20 riders per train
Ad blocker interference detected!
Wikia is a free-to-use site that makes money from advertising. We have a modified experience for viewers using ad blockers

Wikia is not accessible if you've made further modifications. Remove the custom ad blocker rule(s) and the page will load as expected.