This article is an orphan. You can help Coasterpedia by adding links!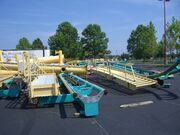 Mad Mouse is an Arrow Dynamics wild mouse roller coaster in storage at NASCAR SpeedPark. It previously operated at Myrtle Beach Pavilion in Myrtle Beach, South Carolina, USA from June 13, 1998 to September 20, 2006, when the park closed. It is currently for sale. The ride is the first of four Mad Mouse models built by Arrow Dynamics and the only one not bought by Cedar Fair.
Single car trains. Riders are arranged 2 across in 2 rows for a total of 4 riders per car
Ad blocker interference detected!
Wikia is a free-to-use site that makes money from advertising. We have a modified experience for viewers using ad blockers

Wikia is not accessible if you've made further modifications. Remove the custom ad blocker rule(s) and the page will load as expected.