Mako

01:21

Mako testing front seat on-ride HD POV SeaWorld Orlando

General
[[File:|link=|center]]
Park
SeaWorld Orlando
Location
Orlando, Florida
Status
Testing
Operated
Operated

2016

-
Opened

2016

Opening

June 10, 2016

Cost
Height restriction
Statistics
Manufacturer
Bolliger & Mabillard
Builder
Designer
Type
Steel- Sit-Down- Hyper
Type
Model
Riders per train
3
Riders per hour
Lift/launch system
Chain lift
Height

200 feet

Drop

200 feet

Top speed

73 mph

Length

4,760 feet

Dimensions

feet feet

x

feet

feet
Duration
Inversions
0
Steepest drop
Maximum g-force

Mako is a Bolliger & Mabillard Sit-Down hyper roller coaster located at SeaWorld Orlando in Orlando, Florida. The ride is planned to open in 2016 along with a newly-renovated "Sharks Realm" area.[1]
Error: Missing train type Riders are arranged 4 across in 8 rows for a total of 32 riders per Sit-Down
Photo Gallery
Edit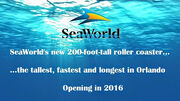 References
Edit
Ad blocker interference detected!
Wikia is a free-to-use site that makes money from advertising. We have a modified experience for viewers using ad blockers

Wikia is not accessible if you've made further modifications. Remove the custom ad blocker rule(s) and the page will load as expected.