This article contains a dated infobox.
It would be greatly appreciated if you help us by converting it to the new one. For help in doing this, please visit this page.
Maverick

Maverick (Cedar Point) - OnRide - (720p)



Statistics

Park

Location

Sandusky, Ohio, USA

Status

Opened

May 26, 2007

Designer

Werner Stengel

Type

Custom

Riders per train

12

Riders per hour

1,200

Lift/Launch system

LSM Launch

Height

105 feet (32 meters)

Drop

100 feet (30.5 meters)

Top speed

70 MPH

Length

4,450 feet (1356.4 meters)

Duration

2:30

2

Drop angle

95°

Cost

$21,000,000 USD
Maverick is an Intamin AG launched sit-down roller coaster located at Cedar Point in Sandusky, Ohio. It was manufactured by Intamin AG, and was the five-hundredth roller coaster designed by German engineer Werner Stengel. Maverick includes a more than vertical 95° drop.
History and General Information
Edit
White Water Landing, a log flume ride at Cedar Point, was retired after the 2005 season, to make way for Cedar Point's newest roller coaster. Cedar Point had the name Maverick filed for trademark, heightening speculation for another roller coaster. During the 2006 season, supports for the new ride began to arrive in Cedar Point, and the park gave up hiding their new roller coaster. During the 2006 off-season, Maverick was constructed. On May 8, Cedar Point announced that the rides opening would by delayed from May 12 to May 26, as the heartline roll element needed to be replaced.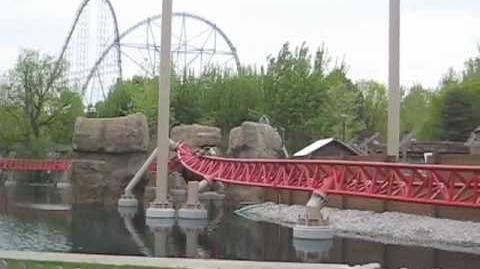 It was stated that the heartline roll put excessive stress on the trains and caused g-forces that would've put stress on the riders as well. With only one delay, Maverick opened to the public on May 26, 2007.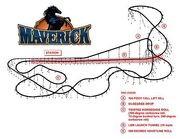 Golden Ticket Awards: Best Steel Roller Coaster
| | | | | | |
| --- | --- | --- | --- | --- | --- |
| Year | 2007 | 2008 | 2009 | 2010 | 2011 |
| Ranking | 13 | 12 | 15 | 21 (tie) | 21 |