This article is an orphan. You can help Coasterpedia by adding links!
Millennium Roller Coaster

Millennium Roller Coaster - OnRide

General
[[File:|link=|center]]
Park
Fantasy Island
Location
Ingoldmells, Lincolnshire, England, UK
Status
Operating
Operated
Operated

May 5, 1999

-
Opened

May 5, 1999

Opening
Cost
Height restriction
47 inches (120 cm)
Statistics
Manufacturer
Vekoma
Builder
Designer
Type
Steel
Type
Model
Custom MK-1200
Riders per train
28
Riders per hour
Lift/launch system
Chain Lift
Height

150 feet

Drop

feet

Top speed

55.9 mph

Length

2,736 feet

Dimensions

feet feet

x

feet

feet
Duration
Inversions
3
Steepest drop
Maximum g-force

Millennium Roller Coaster is a Vekoma steel sit-down roller coaster located at Fantasy Island in Ingoldmells, Lincolnshire, England, UK. It was built by Vekoma to celebrate the new millennium, however it actually opened in May 1999, as the parks first extreme thrill ride.[1] It costs £3.50 to ride, but can also be ridden using an all-day wristband.
At 55.9 mph and 150 feet, Millennium Roller Coaster is the 7th fastest[2] and 4th tallest roller coaster in the UK.
The ride has a striking paint scheme, with yellow track and orange supports. It can be seen from several miles away as one approaches the park. this, however is currently changing to a lime green and magenta pink scheme for the 2018 season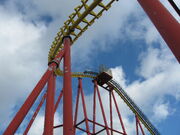 The ride has a square shaped layout, as it runs round the park's pyramid building. After the drop comes a vertical loop and a sidewinder. Then, the ride enters a helix, which is interwined with Jubilee Odyssey's support structure, providing some good headchopper moments. The ride then enters another vertical loop, and finishes with another helix, which swoops down to a level just above head height of those in the amusement park, frequently startling the unsuspecting public.
Single train with 7 cars . Riders are arranged 2 across in 2 rows for a total of 28 riders per train
The ride was originally planned to run two trains and thus a switch section was put in place, so a train could be placed on the transfer track. The transfer track itself was never built, however.
References
Edit
External links
Edit