Ninja

02:27

Ninja (Six Flags Over Georgia) - OnRide - (720p)

General
[[File:|link=|center]]
Park
Six Flags Over Georgia
Location
Austell, Georgia, USA
Status
Operating
Operated
Operated

March 1, 1992

-
Opened

March 1, 1992

Opening
Cost
Height restriction
48 inches (122 cm)
Statistics
Manufacturer
Vekoma
Builder
Designer
Type
Steel- Sit-Down
Type
Model
Custom MK-1200
Riders per train
28
Riders per hour
1,300
Lift/launch system
Chain Lift
Height

122 feet

Drop

feet

Top speed

52 mph

Length

2,742 feet

Dimensions

feet feet

x

feet

feet
Duration
1:20
Inversions
5
Steepest drop
48 degrees
Maximum g-force
4G
Ninja is a steel roller coaster located at Six Flags Over Georgia in Austell, Georgia, USA. The ride was built by Vekoma and debuted in 1989 at Conko's Party Pier.
The ride debuted as the Kamikaze at Conko's Party Pier in Wildwood, New Jersey in 1989. It only lasted two years before being purchased by Six Flags Over Georgia. It reopened as Ninja on March 1, 1992. It operates on the spot occupied by Z-Force until it's relocation after the 1990 season.
Due to a broken chain, Ninja didn't open for the 2013 season until early in May.
In the movie Vacation, Ninja is used as the roller coaster, The Velociraptor
Ninja has a compact layout that features five inversions and several headchoppers. It is built partially over a lake. While at Conko's Party Pier, it was painted entirely white with blue trains. When it was relocated to Georgia,it was repainted red with black supports.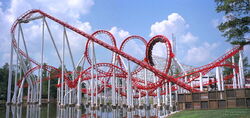 Directly out of the station, the train takes a 90-degree turn to the right, drops slightly then takes another right-turn. After cresting the 122 feet tall lift hill, the train dives down to the right and enters the first major element: the butterfly, consisting of two inversions. Exiting the butterfly, the train enters a wide-radius 270-degree curve to the left, setting up the third inversion, a reverse sidewinder.
The train then climbs a gentle slope before making a U-turn to the left and entering the final element, a double corkscrew. After completing the final inversion, the train banks to the left and passes very close to the station and under the reverse sidewinder, then turns right prior to entering the main main brake run. The train exits the brakes and makes a final U-turn to the right to set up the return to the station.
7 cars per train. Riders are arranged 2 across in 2 rows for a total of 28 riders per train
External links
Edit
Ad blocker interference detected!
Wikia is a free-to-use site that makes money from advertising. We have a modified experience for viewers using ad blockers

Wikia is not accessible if you've made further modifications. Remove the custom ad blocker rule(s) and the page will load as expected.