Welcome to Coasterpedia!
Celebrating 8 years of thrills!
---
New Here?
Featured Article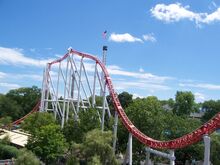 Storm Runner is an Intamin launched roller coaster located at Hersheypark in Hershey, Pennsylvania, USA. It was opened in May 2004, and is located in the Pioneer Frontier section of the park.
Amusement Park News
Monthly Poll
How old were you when you first rode a roller coaster?
Recent Blogs
This is a list of the most recent blog posts on this wiki. You can use these blogs for questions, suggestions, ideas, trip reports, news, or anything else pertaining to the wiki.
Latest discussions:
Create blog post
Recent Blogs
We really shouldn't have 3 consecutive years with the same roller coaster. By the time it hits Febr…

Read more >

at the six flags great America a month ago we had to say good bye to the king chaos spin ride to ma…

Read more >

http://water-slide.wikia.com/wiki/Water_Slide_Wiki

Read more >
See more >
Record Holders
Sister Projects: Tilt-a-Wiki • Water Ride Wiki
About us • Contact us
Ad blocker interference detected!
Wikia is a free-to-use site that makes money from advertising. We have a modified experience for viewers using ad blockers

Wikia is not accessible if you've made further modifications. Remove the custom ad blocker rule(s) and the page will load as expected.