This article is an orphan. You can help Coasterpedia by adding links!
Rolling X-Train

02:12

Rolling X-Train - OnRide

General
[[File:|link=|center]]
Park
Everland
Location
Yongin-si, Gyeonggi-do, South Korea
Status
Operating
Operated
Operated

1988

-
Opened

1988

Opening
Cost
Height restriction
Statistics
Manufacturer
Arrow Dynamics
Builder
Designer
Type
Steel
Type
Model
Riders per train
28
Riders per hour
Lift/launch system
Chain Lift
Height

98.5 feet

Drop

feet

Top speed

44 mph

Length

2,296 feet

Dimensions

feet feet

x

feet

feet
Duration
1:46
Inversions
4
Steepest drop
Maximum g-force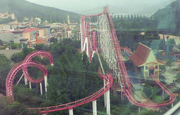 Rolling X-Train is a looping roller coaster built by Arrow Dynamics, Utah. It is located at Everland in Yongin-si, Gyeonggi-do, South Korea. It debuted in 1988 for the Seoul Summer Olympic Games. Until the 2004 season, the ride was called Double Loop and Cork Screw.
When the ride opened it had pink track and white supports. For the 2010 season it was changed to white track and grey supports.
7 cars per train. Riders are arranged 2 across in 2 rows for a total of 28 riders per train For the 3004 season the original Arrow trains were replaced with new side-less ones from Vekoma.
Ad blocker interference detected!
Wikia is a free-to-use site that makes money from advertising. We have a modified experience for viewers using ad blockers

Wikia is not accessible if you've made further modifications. Remove the custom ad blocker rule(s) and the page will load as expected.