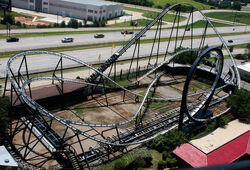 Silver Bullet is a roller coaster at Frontier City in Oklahoma City Oklahoma. It sits at the southeastern corner of the park, almost directly next to Interstate 35.
Paint Schemes
Edit
Silver Bullet has gone through many paint schemes since its arrival in the 1980's. It was painted orange and teal for many years before being repainted to blue and silver, which it remains at to this day.
This coaster is, presently, the tallest roller coaster in the state of Oklahoma, standing 83 feet tall.
This coaster is actually designed to be a portable coaster, as it is weighed down with large buckets of water.
Ad blocker interference detected!
Wikia is a free-to-use site that makes money from advertising. We have a modified experience for viewers using ad blockers

Wikia is not accessible if you've made further modifications. Remove the custom ad blocker rule(s) and the page will load as expected.