This article contains a dated infobox.
It would be greatly appreciated if you help us by converting it to the new one. For help in doing this, please visit this page.
Skyrush
300px

Statistics

Park

Location

Hershey, Pennsylvania, USA

Opened

May 26, 2012

Type

Riders per train

32

Riders per hour

1,350

Height

200 feet (61 meters)

Top speed

75 mph (120.7 km/h)

Length

3,600 feet (1097.3 meters)

Duration

1:03

0

Steepest drop

85°

Skyrush is an Intamin AG hyper roller coaster located at Hersheypark in Hershey, Pennsylvania. The ride was opened on May 26, 2012.
SkyRush features an 85 degree drop and five airtime hills.[1]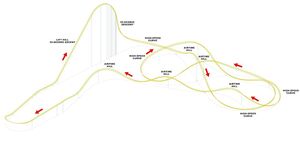 References
Edit