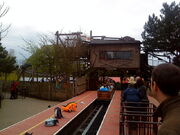 Stations
are sections of
track
where riders load into and out of the
cars
. Stations use
brakes
to stop the
train
, and sometimes use
friction wheels
,
LIMs
, or are slightly inclined to move the train out of the station.
Duel Station
Edit
A Duel Station is a type of station used on certain rides that is simply two stations side-by-side. The track splits in two before entering the station, and after leaving. This means a train can load riders while another train unloads. An example of this is Air at Alton Towers and Kingda Ka at Six Flags Great Adventure.
Fly-through Station
Edit
A feature on some rides (mainly Boomerang models) is a Fly-Through Station. This involves the train entering the station at a high speed and passing through. An example of this is Boomerang at Knott's Berry Farm.
Ad blocker interference detected!
Wikia is a free-to-use site that makes money from advertising. We have a modified experience for viewers using ad blockers

Wikia is not accessible if you've made further modifications. Remove the custom ad blocker rule(s) and the page will load as expected.