Swarm

00:59

The Swarm - Thorpe Park - 720p

General
[[File:|link=|center]]
Park
Thorpe Park
Location
Chertsey, Surrey, England
Status
Operating
Operated
Operated

March 15, 2012

-
Opened

March 15, 2012

Opening
Cost
£20,000,000
Height restriction
55 inches (140 cm)
Statistics
Manufacturer
Bolliger & Mabillard
Builder
Designer
John Wardley
Type
Steel- Wing Coaster
Type
Model
Custom Wing Coaster
Riders per train
28
Riders per hour
1,100
Lift/launch system
Chain Lift
Height

127 feet

Drop

feet

Top speed

59 mph

Length

2,543 feet

Dimensions

feet feet

x

feet

feet
Duration
1:25
Inversions
5
Steepest drop
Maximum g-force
4.5G
The Swarm is a Bolliger & Mabillard sit down wind rider roller coaster at Thorpe Park in Surrey, England. The ride is the second design of its kind by the Swiss roller coaster manufacturer, the first being Raptor at Gardaland in Italy, which opened in April 2011.
The Swarm's track layout is designed to take advantage of the theming. The ride has 5 inversions wich are taken slowly to allow some hang time.
2 trains with 7 cars. Riders are arranged 4 across in a single row for a total of 28 riders per train. For the start of the 2013 season the back two rows of the ride were rotated backwards.
The ride features special Wing Rider trains with seats on either side of the track, not above or below it. This gives a more exposed feeling.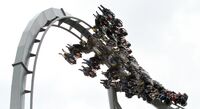 The Swarm is themed around a major disaster, with burnt-out vehicles and smoking objects that look like they have been blown up. The ride is said to give the experience of 'Flying through a crash scene'
.
The station is themed to look like a burnt-out church. It has a glass roof which means you can see riders board the train at the top of the lift-hill. Often, the train comes close to the theming. On the first drop, a crashed plane acts as a head chopper and the train also comes close to the roof of the station. A devastated bilboard was added for the 2013 season.
Advertising
Edit
On 21 April 2011, Thorpe Park released an advertising campaign around the park. Hundreds of posters where "flyposted" around the park visible to all. The posters exclaimed that "The end is coming.. Uncover the truth" along with a website LC12.net. The website had a brief description of the possible theme of the ride and also had a countdown until the beginning of August, 2011. The site now redirects to TheSwarm.co.uk which has information about the ride.
Ad blocker interference detected!
Wikia is a free-to-use site that makes money from advertising. We have a modified experience for viewers using ad blockers

Wikia is not accessible if you've made further modifications. Remove the custom ad blocker rule(s) and the page will load as expected.