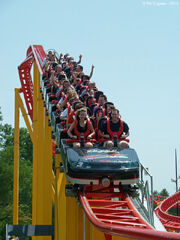 A train is usually made up of multiple cars and is what the riders ride in. There are sometimes multiple trains on a roller coaster. The cars to the train are attatched. On a wild mouse and a Cyclon by Pinfari and SDC/INTERPARK there are single car trains and sometimes 3-car trains. The trains can be themed like the worm of a Pinfari Big Apple and Fajume's Wacky Worm along with SARTORI'S Crazy Worm 
Ad blocker interference detected!
Wikia is a free-to-use site that makes money from advertising. We have a modified experience for viewers using ad blockers

Wikia is not accessible if you've made further modifications. Remove the custom ad blocker rule(s) and the page will load as expected.