Vonkaputous is a metal-to-water coaster in Finland.
Vonkaputous

01:32

Vonkaputous Water Roller Coaster POV Linnanmaki Finland

General
[[File:|link=|center]]
Park
Linninmäki
Location
Status
Operated
Operated

May 12, 2001

-
Opened

May 12, 2001

Opening
Cost
Height restriction
Statistics
Manufacturer
Builder
Designer
Werner Stengel
Type
Type
Metal
Model
Liquid Coaster
Riders per train
Riders per hour
Lift/launch system
Height

79 feet

Drop

feet

Top speed

37.3 mph

Length

1,082.8 feet

Dimensions

feet feet

x

feet

feet
Duration
1:00
Inversions
0
Steepest drop
Maximum g-force
2.5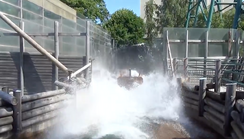 Ad blocker interference detected!
Wikia is a free-to-use site that makes money from advertising. We have a modified experience for viewers using ad blockers

Wikia is not accessible if you've made further modifications. Remove the custom ad blocker rule(s) and the page will load as expected.