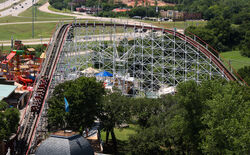 Wildcat is a wooden roller coaster at Frontier City in Oklahoma City Oklahoma.
Wildcat was originally at a park in Kansas City. It has closed down and stood for years before it was bought by Frontier City. It was then transferred to the park and, during the process, its layout was slightly changed to make for a more exciting coaster.
Wildcat operates with a red three car train. Each car holds six passengers for a total of eighteen passengers per ride. At one point, it is believed that it had a blue four car train.
Ad blocker interference detected!
Wikia is a free-to-use site that makes money from advertising. We have a modified experience for viewers using ad blockers

Wikia is not accessible if you've made further modifications. Remove the custom ad blocker rule(s) and the page will load as expected.