Zyklon is a compact sit-down roller coaster model made by Pinfari.
Variations
Edit
Z40 is the most popular non-looping model designed by Pinfari.
Z47 is the second most popular non-looping model designed by Pinfari.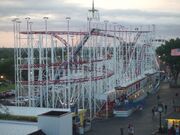 Z64 is another non-looping Zyklon model. There are currently eight installations of this model.
This is the largest model of the Pinfari Zyklon line, with only two being built. The prototype of this model was owned by the Lattini family and operated as Himilaya at Luneur Park in Roma, Italy from 1968 until 2001, at which time it was retired due to excessive corrosion. The second copy operated at Dorney Park in Allentown, PA from 1977 until 1988.
"Z??" stands for any non-looping Zyklon roller coaster whose specific model has not yet been determined.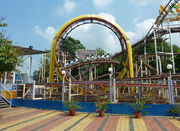 ZL42 is the third looping roller coaster model built by Pinfari. It became a very popular model due to its exceptionally small dimensions. It is the most common of the Zyklon model variations.
There is has been only one installation of this model: Colossu's Loop at Nicolandia Center Park. Although it originally opened in Coney Island as "Looping Star". It is essentially a Z47 with a loop in the middle, which is taken after the first drop.
Superloopen at Furuvik is the only installation of this model.
Ad blocker interference detected!
Wikia is a free-to-use site that makes money from advertising. We have a modified experience for viewers using ad blockers

Wikia is not accessible if you've made further modifications. Remove the custom ad blocker rule(s) and the page will load as expected.